Gardening Club
Christ the Sower gardening club runs on a Wednesday evening, 3.15 - 4.15. We take a maximum of 12 children each term. Our aim is to give children an understanding of gardening from seed to plate. This includes the compulsory weeding and composting! Although we have been surprised just how much the children love it.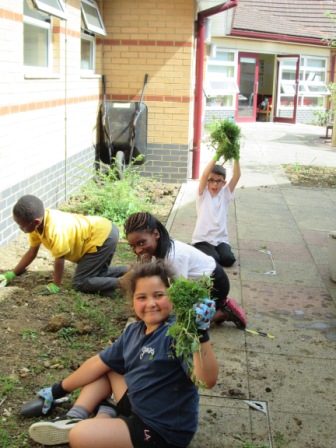 Over the past years we have concentrated on growing a variety of vegetables and flowers, however, now a lovely new kitchen is open we are intending to concentrate on specific crops that the children can see being used in the kitchen meals.
We have already planted our broad beans, onions and garlic to show our children that some seeds can grown in winter too! Our crops this year will be herbs, lettuces, cucumbers, tomatoes, onions, garlic and spring onions
Thanks to our lovely PTA we now have a super new greenhouse which means we can continue to run the club in the colder weather.
We would ask that if your child does attend this club they must wear appropriate old & warm clothing, warm loose trousers and tops with old trainers or wellingtons. We involve the children in all types of of gardening including digging! and we really don't want to send your children home with muddy school shoes!
If any parents/ grandparents or carers have gardening experience that you would like to share with the children please make contact with the school, we would love to hear from you!
Future Aims
We are looking to purchase some heaters for the greenhouse and due to the overhang on our roofs, we currently don't get any rain at the back of our raised beds, we are looking to raise funds to buy some solar powered watering systems that will mean all the beds will be watered including whilst we are on holiday.