Going Dutch...
Frog, Squirrel, Cow & their 4 Mysterious Friends...in Holland
Report on the Comenius School Project Visit to OBS De Fûgelflecht, Franeker, Netherlands: 3 – 7 June 2015
Following the visit that four of us made to Slovenia in March this year, it was a joy for another group to visit northern Holland and to finish off the project that we have been involved with since the middle of 2013.
All four of us who attended the visit had been on previous visits – this was deliberate, because I wanted to see what could be established in terms of friendships for future work, and that was always easier if I had people with me who could re-engage straight away with people they had seen on previous visits. So Fiona Head had visited Sweden last summer, Je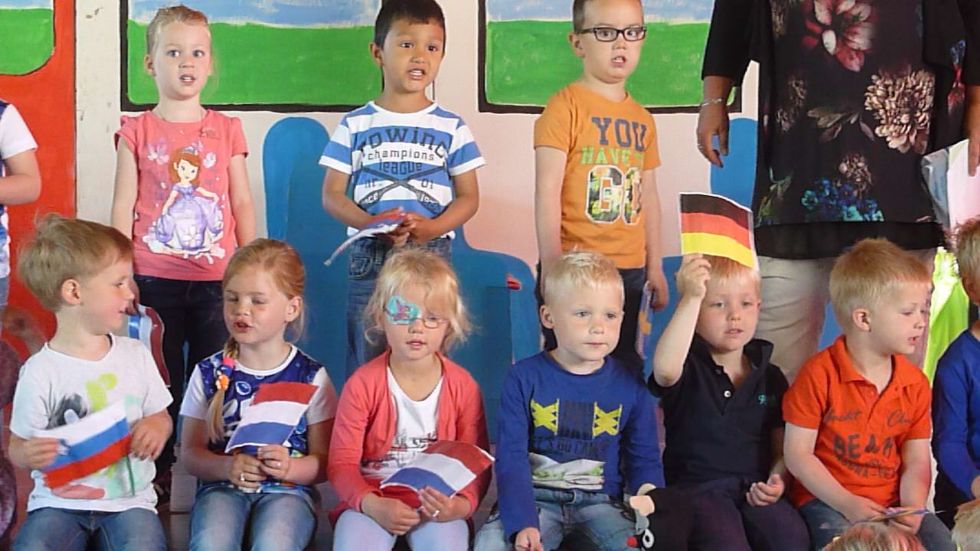 ss Foy had been to Slovenia in the spring, Hema Morarji had led the visit to Germany last autumn, and I had been in Belgium and in Slovenia. This really did pay off, as all of our group, along with the Swedish group from Goteborg, were far more affable and engaged with the other participants than the other teachers. Some other groups – the Belgians and Slovenians in particular, really did keep themselves to themselves, and made it hard to build friendships except with those they had met whilst in Ljubljana. It made my job as project coordinator, and Mirjam Andringa's job as host, all the more tricky!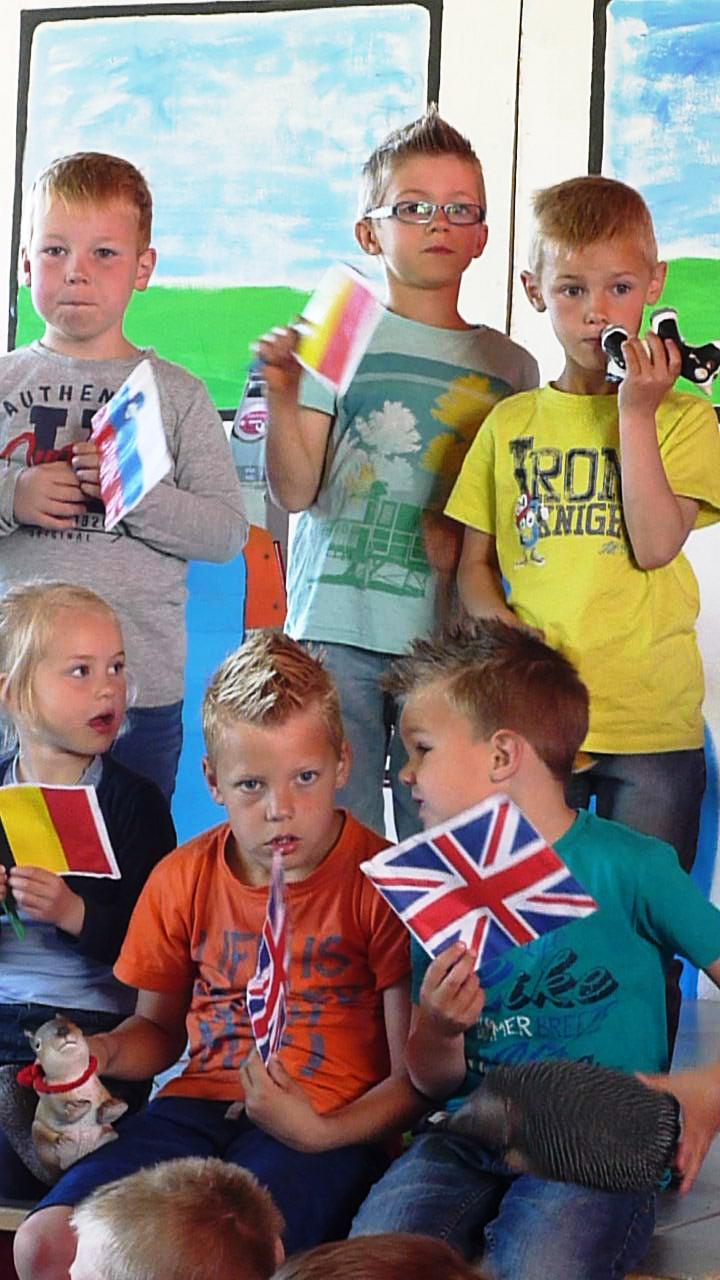 Franeker is a lovely, canal-circled town in Friesland, the northern bit of Holland, north of the Ijsselmeer that is the large bay in the middle of Holland north of Amsterdam. They have many distinctive features; their own language (Fryske), distinctive surnames ending in –ma, -sma and –ga, and their own (Friesian) cattle. They also have some very curious farmhouses with enormous roofs and ornate iron gable-end decorations that were just very different from anything else we had seen.
From the program we had been sent, and from the preparation that Mirjam and Anneke Sinnema had made, it was obvious that they had learnt from all the other visits about how best to make sure there was enough time to do everything, time for rest, plenty of time for professional discussion and plenty of chances for good Dutch hospitality. It was a beautifully organised visit, with such attention to detail that we never felt over-worked, under-fed or underprepared. Everything was a joy.
Having been collected from Schiphol airport and driven to Franeker (via the lovely seaside town of Hindeloopen, where we could stretch our legs and drink good coffee en route), we were given space to rest before we all gathered together again at Anneke's house in the nearby village of Menaldum. Anneke and her family take time out to do proper catering, and so we got a real treat of food and drink and good company – the perfect way to start off a project visit.
The first day was spent chiefly at OBS De Fûgelflecht, but not before we were inducted into another level of Dutch-ness and issued with bicycles. This was OK for those of the cyclists among us, but one or two had not used this method of transport since childhood! And it showed, a bit! Anyway, Holland is flat, and Friesland is flatter, so we all got to the school in one piece without falling off or doing any other embarrassing thing.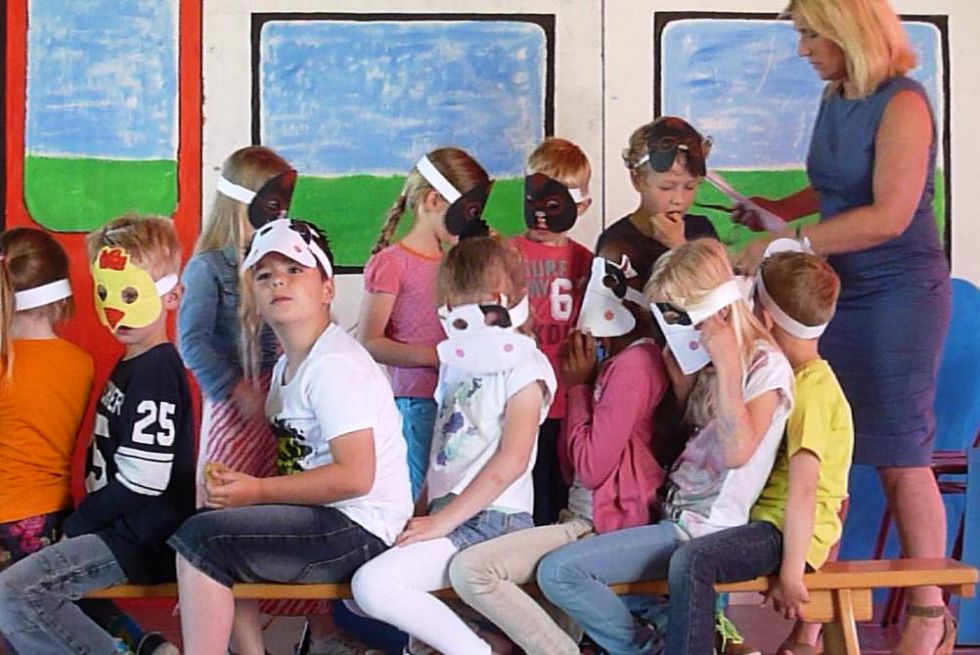 The welcome was wonderful. Children were singing in the playground as we arrived and soon we had a chance to hear each class present a song or a little play in their main hall. The school has been through some difficult times recently and its roll is falling. Despite that, it was a place full of excitement and joy, and after hearing the children we were given the chance to go throughout the school visiting classes and taking to the children, many of whom were more than happy to try out their English with us. The oldest children were 12, equivalent to Y7s here, and their youngest were four, the age of school entry in Holland. It was really super to have the level of professional dialogue that we did, with the Dutch teachers. They showed us all sorts of aspects of their work, from SEN to gifted and talented. Just before lunch, we were given a presentation by Halbert Hageman, a retired educator who I had met previously when setting up the project in 2012, on the Dutch system of education. This is, if anything, even more robust than ours, with data-led inspections, early years baseline testing and a very high level of parental choice. There is also, in Friesland, real pressure on budgets through rural depopulation and the struggle to find good teachers in country districts.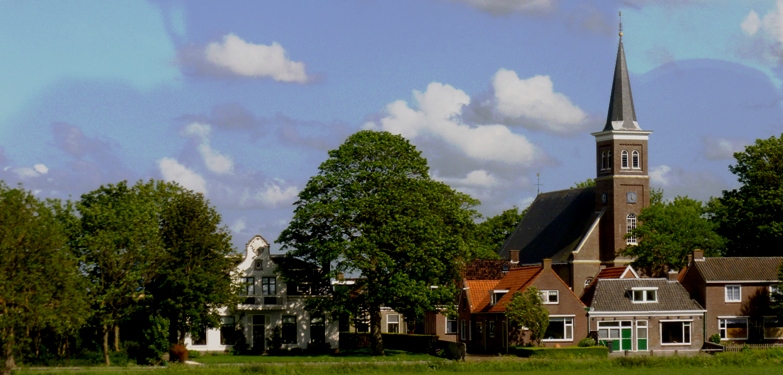 After lunch, we were shown around the town of Franeker by a guide, who happened to be one of the teachers at OBS De Fûgelflecht. Like all old Dutch towns, this was a delightful mixture of water-side houses, bridges and old gables, with buildings from the early 17th century onwards. One special treat was a visit to the Eise Eisinga planetarium, in continuous use since 1781, and thus the world's oldest working one. We then went to visit the Town Hall, where we were greeted by the vice-mayor of the town, and where we presented a poem that we had translated into each of our own languages, to one another.
The following day began with a serious meeting of the project coordinators, who worked hard to evaluate and ensure that the progress and outcomes we planned for this project had taken place. This was harder than usual, as at least two of the schools did not do what they said they would do and so there were all sorts of logistical hiccups that meant that the final products were not as we originally envisaged them.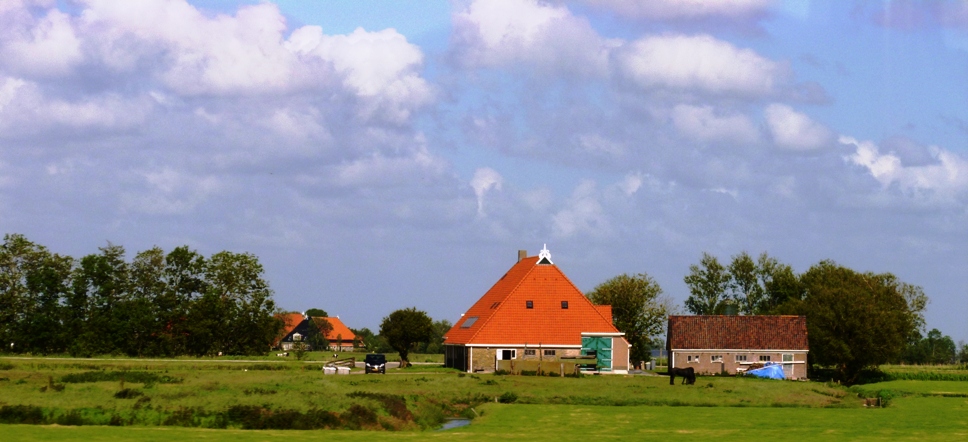 Later in the morning we all got together on the bikes and cycles to SBO De Bolder, a special school for 220 children with a range of physical and cognitive difficulties. The head there, Janet Weima, was a really inspirational teacher – the sort I would love to work for, or with – and she gave us a real insight into how they made school "special" for the children. Her mantra was "this is a special school because we have normal children who need special education"! Her whole ethos was fantastic, and it reminded me again that special schools often are far in advance of mainstream in how they provide for and teach their children. We have stayed in touch and Janet is looking at how we use restorative practice in our school to fix relationships.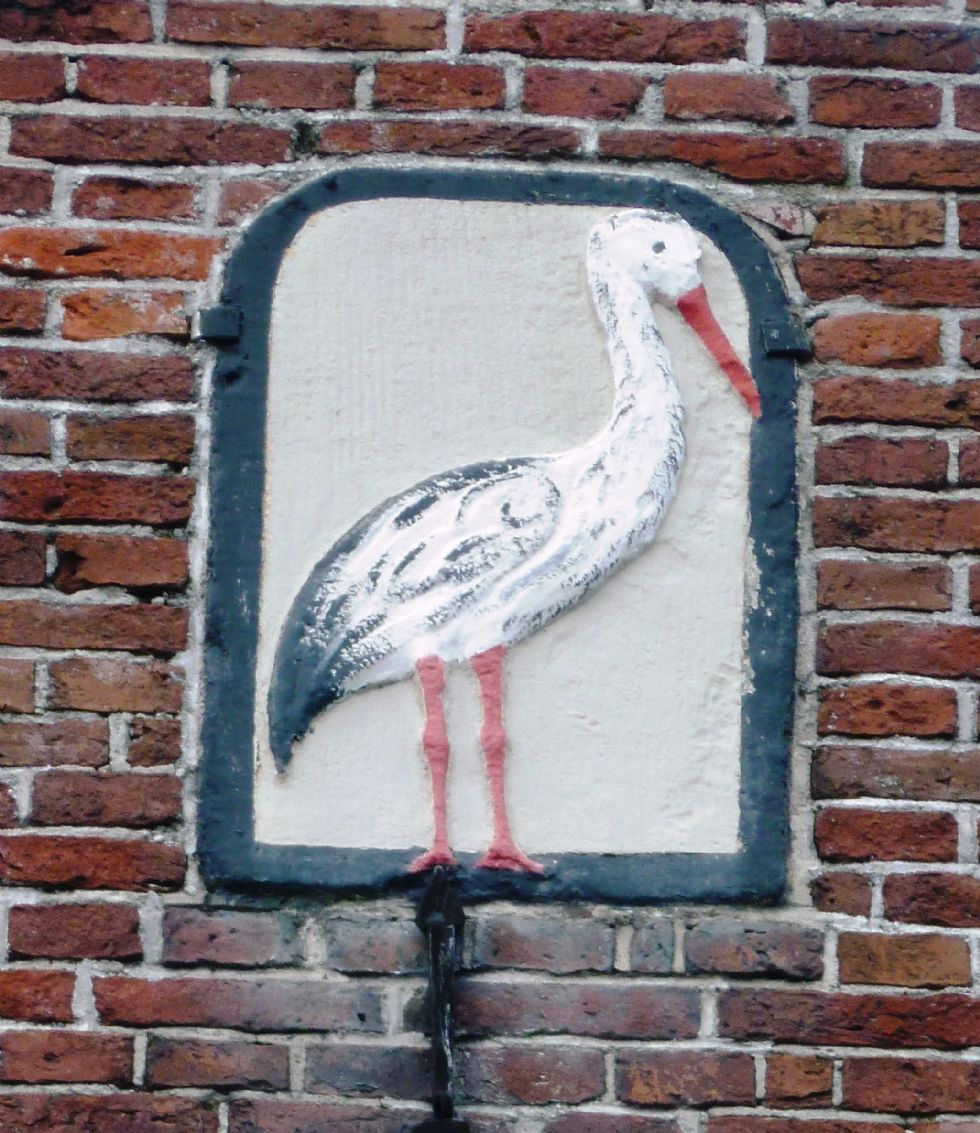 From there we went to see Dukke Wiersma's class in OBS De Fûgelflecht. Dukke has a class of Y6/7 children who for social reasons find it hard being gifted and talented, and she takes them for a day a week from surrounding schools and teaches them a special curriculum. It was the only time that children were put in charge of us adults and led us in our learning. Again, inspirational and quite moving.
The next activity (after more cake probably – I forget!) we had the chance to present short films and slide shows to each other of the work we had done over the last 2 years. Whilst there was a lot of interesting material (especially from the German contingent) nothing really compared with ours! Theresa Stock had put together a film that had pupil evaluation of the project, children's activities, hatching eggs and new chickens and some adult evaluation of the impact that the project has had on all of us. It made me really proud (and a little relieved, as we have not always been able to give the time we wanted to this project!) to see the quality of the film.
Lunch that day was hosted by parents from OBS De Fûgelflecht, and we all went off on bikes in different directions and had lunch with the children and their mums and dads in their homes. I got lucky – the host was a builder and decorator who had done up his 1900 town house in the style of the period and it was really a fantastic place to be. Talk centred on politics and schooling and on the history of the town and on Holland's place in the world.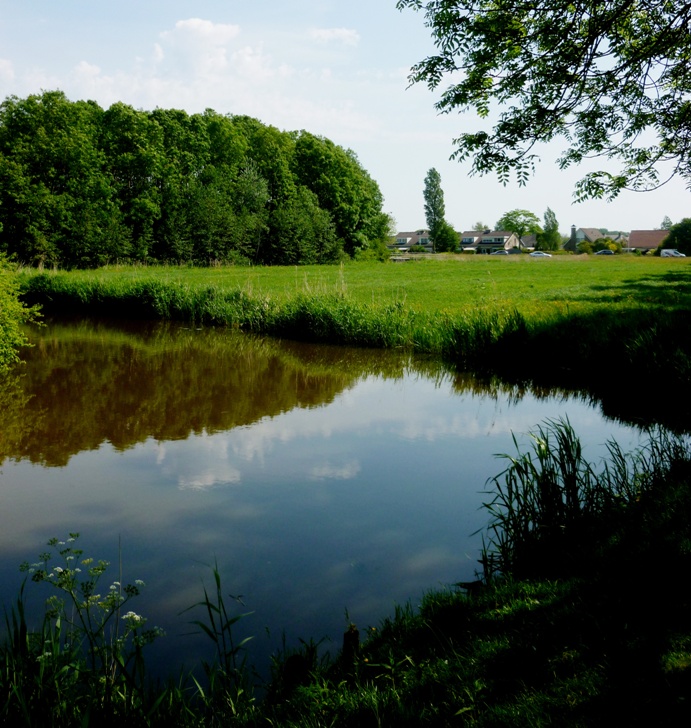 That evening the school was hosting a special parents' fair, in which we were asked to participate. We had brought sweets from the UK (the Swedes brought cheesy wotsits which I have not had for years, and on which they apparently live!), and some games – quoits and Snakes and Ladders, which we set up and invited parents to come and play. The Germans had brought a Mary Poppins-type suitcase in which half of Germany was packed, or so it seemed. The Swedes all dressed up in tranditional costumes or as Pippi Longstocking, and played kubb, which I am told is a great game when played well. It involves people throwing pieces of wood at other pieces of wood, as far as I could tell. It was all great fun until just before the end of the scheduled time, when the heavens darkened and we headed for the bikes and the hotel, and a lovely supper in a small restaurant which we completely took over. It was the only restaurant I have been in where the food was cooked in the building down the road and brought in….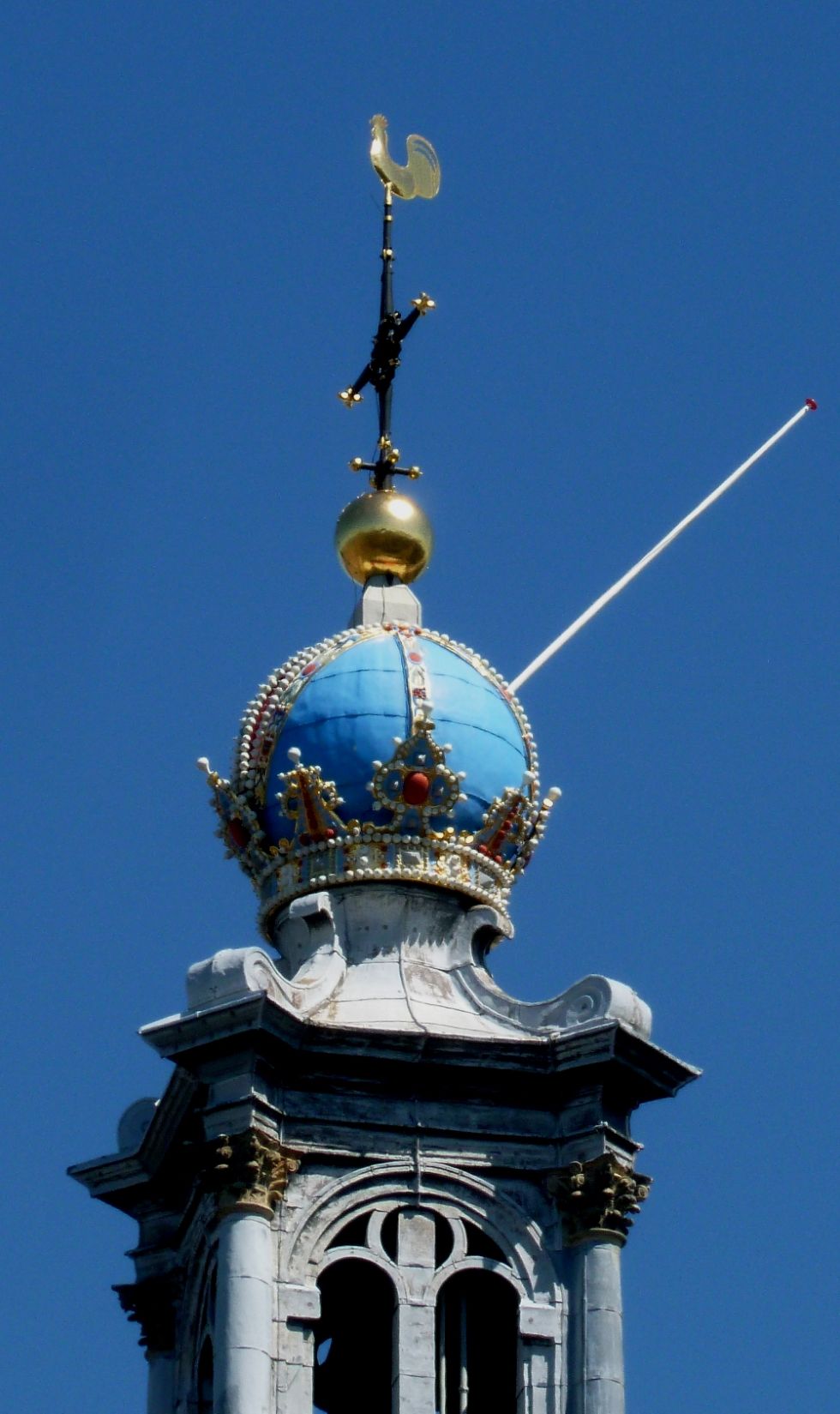 The final day, Saturday, was a chance to visit Amsterdam. The purpose was simply to enjoy the city – it was a glorious day – before a final evening together. Plenty of the Dutch teachers came and once in the city, we had a canal tour for a couple of hours, whilst canapés and drinks were served (Anneke's cooking again!). We had a couple of hours' free time in the city before the bus took us back.
The final event was an amazing barbecue hosted at a village hall and with live music from three singers who sang and dressed in the style of the 1940s. All of it was a lot of fun, but served to add to the tiredness that most people felt by the end of these fairly intense visits.
Reflections….at some point I will have to write a final report on the last two years, and for a number of reasons, I will have to say that the learning for the children, whilst extensive, did not have the type of impact we planned. There are a lot of reasons for this. However, where there has been huge impact has been on the 12 teachers and teaching assistants who have travelled to 5 different countries and seen teachers from other countries in our own classes. All of us have been profoundly changed by what we have seen and in our assumptions about children's education. This will come out in all sort of ways, from Foundation practice to the type of furniture we buy. Watch this space!!!
Finally, a word of thanks to all of those leaders and teachers who have taken part or stood in whilst their colleagues took part in visits, and to governors and children who have helped make this project the fun it has been.
Huw Humphreys, headteacher