West Flank Orchestra launched!

We had over 100 parents come and attend the first concert given by the West Flank Orchestra - 83 children from Christ the Sower, Caroline Haslett, Two Mile Ash, Giles Brook and Longmeadow Primary Schools took part.
The children arrived early on the Tuesday morning, 17th June, and were set to work by Mrs Richards from Christ the Sower and Mrs Marshall from Two Mile Ash, to learn three pieces of music that had to be ready for performance by 3.45 that afternoon. It was really their brainchild that got the concert started, and Sarah Watts' wonderful music and arrangements that made it straightforward for the event to take place.
Rehearsals went on all day, with help from some staff from Christ the Sower (*thank you Miss Underwood for your clarinet playing, and Mrs Smith for the flugelhorn!), and from Longmeadow and Giles Brook, who had come to accompany their children.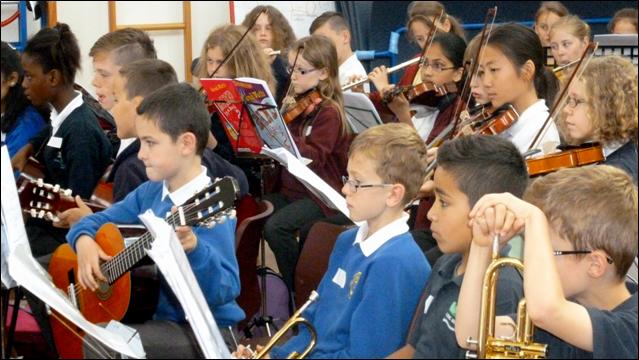 The concert was a resounding success, with the three pieces being played really well, and one piece - Midnight in Moscow - being called for as an encore.
Everyone involved wanted to do this again. A special word of thanks to Lizzie Bancroft, headteacher at Loughton Manor First School, for the loan of industrial quantities of music stands, and who attended the concert. We are also grateful to Sue Wakely from the MK Music Service who attended and encouraged the children and parents to think about attending other events where they could play along with other children.
Please enjoy the photos of the rehearsal and concert below!