A great Year 6 leaves for greater things!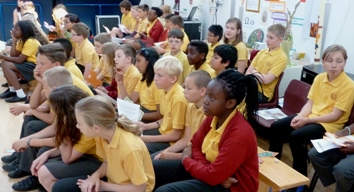 It has been a sad farewell for the children who have left us in Year 6 today. In terms of academic achievement, sport, the arts, friendship and a willingness to work together, this group of children have given us all new hope and encouragement that what we do here, and what we want for our children, is deeply worthwhile. Just from the academic standpoint, we have increased the percentage of children achieving Level 4 and above in maths from 68% last year to 82% this year which is a great achievement by the Y5/6 team.
But it's much, much more than that, of course. I was suddenly conscious this morning during the stunning Y6 Leavers' collective worship of just how important and vital to our community these individual children have become—perhaps even more than previous years. We found it very moving, all of us, when the children brought decorated crosses to say what they had learnt and loved whilst they were at Christ the Sower. Children were presented with dictionaries or bibles, and spent a super day celebrating together, with Miss Fesltead and Mrs Dryland and Mrs Sandhu, who have been outstanding in theor care and teaching of this cohort of children this year. My deepest thanks to them and every single adult who has led them.
Each child goes with this blessing:
The Lord bless you and keep you; the Lord make his face shine upon you and be gracious to you; the Lord turn his face towards you and give you peace.